How to tye my bearded man sling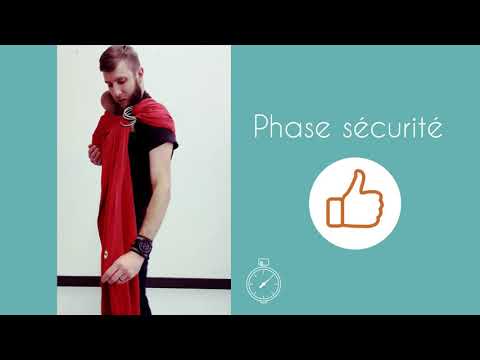 Why the "Bearded man" Ring Sling ?
Anthony is a young BEARDED dad with 2 children.
As a carrying instructor and founder of the workshops "Porter, rien de barbant", (carrying isn't boring : boring and bearded meet in french) and an eternal inventor, he is constantly seeking and questioning the well-being of babies being carried … and that of the parents carrying them.
Anthony started from the simple premise:
The baby wrap is extremely comfortable.It therefore allows babies to be carried for long periods on a daily basis.That being said, young parents are sometimes put off by the difficulty of the ties and the length.
The ring sling is very simple to manage.That said, only one shoulder does the carrying.So, it cannot be used for intensive carrying.
1 wrap + 1 ring sling = the Bearded Man Sling
So, Anthony designed a baby carrier that combined the advantages of the wrap and the advantages of the ring sling. Alexa – the founder of Colimaçon– brought his project to life and they both worked for 1 year on creating the BEARDED MAN SLING.
Size guide
A simple formula allows you to choose between size 1 and size 2:
Waist measurement (in cm) + Distance from one shoulder to the other (in cm) + distance from one shoulder to your belly button (in cm).
If the result is higher than 180, opt for size 2

If the result is higher than 235, opt for size 3
( For peole who use inches, 1 inch = 2.54 cm)
What is the "easy tie" option ?
The thread we use for the hems is different on either side of the fabric, so you can find your way around more easily when doing your ties (in the video, we explain this option for wraps.The exact same point applies to the BEARDED MAN SLING).
Technical features
THE BEARDED MAN SLING is a classic ring sling to which Anthony has added 3 special feature :

... for versatile, simple and comfortable carrying.
55 % organic cotton
Gots certified
Fabric woven an dyed
in France
Do I need to wash my Colimaçon wrap, Colima-sling or bearded baby sling before using it for the first time?
Yes. After dying our fabric, the dyer applies a finishing product that helps the fabric glide but makes knotting more difficult (the fabric doesn't have enough friction). Machine wash your baby carrier once in 30℃ ( 84°F) water to get rid of this finish.
How should I care for my wrap or my Colima-sling?
Over time, exposure to heat will deteriorate the fibres. To keep your baby carrier strong, we suggest machine-washing in water no hotter than 40℃ ( 106 °F). Machine dry and iron only occasionally.
Will my wrap shrink the first time I wash it?
Yes. It will lose 10% of it's length. That's why we make our wraps 10% longer than the size chosen. (For example: If you've ordered a 4.50m wrap, you will receive a wrap that is 4.90m, which will shrink to 4.50m after washing.)
The size I need is not available. Can you make me a CUSTOM wrap?
We make the wraps, and we would be pleased to accommodate your needs. If you need a customized wrap, contact us by phone or email.
I'm nervous about starting to carry my baby. How do I start?
We work with a network of Colima-moms relay. They are trained babywearing professionals or organizations who run babywearing workshop (either free or for a fee). They have chosen to use our baby carriers because they appreciate their quality and comfort. They organize friendly gatherings where new parents can try out C&C carriers, they host demonstrations and workshops on babywearing with wraps and, more generally, they offer advice and support.
There is probably a Colima-representative near you. Contact us and we'll give you her contact information.